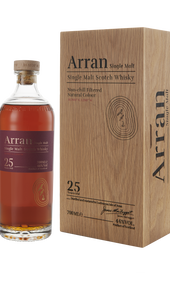 ARRAN
Arran 25 Years Single Malt
Regular price
19,800.00 ฿
0.00 ฿
Unit price
per
Immerse yourself in the legacy of whisky with Arran 25 Year Old Single Malt. Aged for a quarter-century in fine oak casks, this premium Highland single malt Scotch whisky embodies an intense, smoky flavor profile. Warm vanilla and aged wood aromas elegantly complement its character.
With a confident 46% alcohol content, it ensures a smooth, full-bodied taste that's perfect for connoisseurs seeking a truly rich experience.

Elevating our core range, Arran 25 Year Old Single Malt is an annual treasure. With only 3,000 bottles available worldwide annually, its limited availability underscores its exclusivity.
Each 700ml bottle reveals the culmination of meticulous maturation in ex-Sherry and Bourbon Casks, bottled at 46% Vol without any chill filtration or added coloring.

Pioneering the new wave of distilleries, we're delighted to share our oldest age statement whisky annually. As you sip, celebrate the journey from inception to 25 years of maturation.
Join us in raising a glass to our Lochranza Distillery's legacy and the extraordinary taste of our oldest Single Malt. Each drop encapsulates a quarter-century of dedication, expertise, and a passion for crafting exceptional whisky.
Arran 25yo Tasting Notes
Nose: Rich oak with a gentle nutmeg note. Sweeter aromas of baked ripe figs, sultanas and black cherries.
Palate: Fruit cake with toasted almonds and cinnamon. The juicy zestiness of oranges and mandarins mellows perfectly with manuka honey, muscovado sugar, baked apricots and an interesting white pepper note that provides even more complexity.
Finish: Creamy and spicy with dark chocolate, walnuts and dark fruits compote
---
Share this Product
---