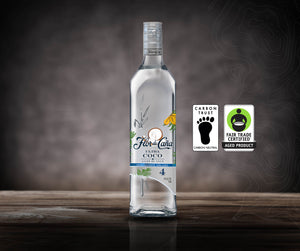 FLOR DE CANA
Flor de Caña Ultra Coco
Regular price
990.00 ฿
0.00 ฿
Unit price
per
Indulge in the harmonious symphony of Flor de Caña Ultra Coco, an exquisite rum crafted from the finest sugar cane. Enriched with the luscious essence of Caribbean coconut, this exceptional creation offers a taste journey like no other. The special blend showcases the artistry of rum-making, yielding a remarkably smooth and well-balanced spirit.

With a distinctive 17% alcohol content, this light rum stands apart, promising a unique and captivating experience for your palate. Encased in a meticulously designed 700ml bottle, it's not just a beverage but an embodiment of sophistication and indulgence.

Ultra Coco isn't just a rum; it's an embodiment of tradition, innovation, and the spirit of the Caribbean. Elevate your sipping experience with this masterfully crafted blend, allowing yourself to be immersed in the art of rum-making and the genuine flavors of the Caribbean.
Flor de Caña Ultra Coco notes:
Collection: Specialties
Body: Light-bodied
Color: Transparent
Aroma: Fresh aroma of coconuts
Palate: Fresh and sweet notes with intense coconut flavor, with a creamy finish.
How to drink: Cold, on the rocks or in tropical cocktails.
---
Share this Product
---