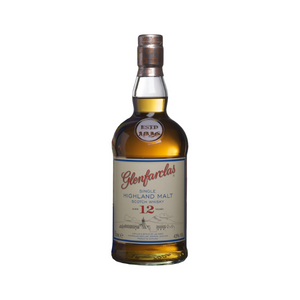 GLENFARCLAS
Glenfarclas Highland Single Malt 12 Years 70Cl
Regular price
2,760.00 ฿
0.00 ฿
Unit price
per
Volume: 700 ML. Place of Origin: SCOTLAND
An excellent introduction to the distillery style. Glenfarclas means Glen of the Green Grassland, and the freshness on the nose reminds me of grassland inspiring. So, for me, this is the 'farclas' aroma. In 2006 this was named the 'Best Sherried Whisky' in the Single Malt World Cup. More recently Glenfarclas 12 Years Old won Gold at the Stockholm Beer & Whisky Festival in 2007 and again in 2008.
Colour: Vibrant amber-gold. Nose: Fresh and beautifully light, sherried fruit combined with a tempting spicy sweetness and a hint of sappy oak.
Flavour: Full-bodied, delightful sherried fruit, with oak, a hint of peat and delicious sweet sensations.
Finish: Long and flavoursome, with a lingering spiciness.
เป็นการแนะนำที่ยอดเยี่ยมสำหรับ วิสกี้ของ เกลนฟลาคาส โดยคำว่า เกลน หมายถึง ทุ่งหญ้าสีเขียว โดยให้ความสดชื่นจากทุ่งหญ้า สำหรับฉันนั้น มันอยู่ใน กลิ่นหอมของ ฟลาคาส ในปี 2006 ได้รับชื่อเสียงว่า วิสกี้จากถังแชรี่ ที่ดีที่สุด ในการแข่ง ซิงเกอร์ มอล์ต เวิร์ด คัพ หลังจากนั้นไม่นาน เกลนฟลาคาส 12ปี ก็ได้รับเหรัยญทอง ในการแข่งขัน สต๊อกโฮมส์ เบียร์และวิสกี้ เฟสติวัล ในปี 2007 และ ปี 2008
https://glenfarclas.com/whisky/the-aged-range/12-year-old-whisky/
---
Share this Product
---