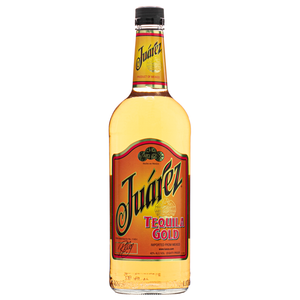 Juarez Tequila
Juarez Reposado
Regular price
900.00 ฿
0.00 ฿
Unit price
per
Juarez Reposado Gold is an award-winning premium tequila aged to perfection from the Jalisco region of Mexico and the 4th best-selling tequila brand in the US.
Housed in a 750ml bottle with 40% ABV, its smooth and balanced flavor profile features subtle wood undertones.

From leisurely sipping to crafting cocktails, Juarez Gold brings versatility to your libations. Its well-rounded flavor profile makes it a great base for cocktails, enhancing the depth and sophistication of your creations.

Experience the heart of Mexico with Juarez Reposado. Its excellence and balanced wood notes make it a standout choice for both casual and celebratory moments.
Enjoy responsibly and relish the remarkable artistry of aged tequila.
Juarez Reposado Tequila Notes
Color: A subtle golden shimmer
Aroma: strong, cinnamon, vanilla, pepper, honey
Taste: Agave, semi-sweet, vanilla, spice
Country: Mexico
---
Share this Product
---