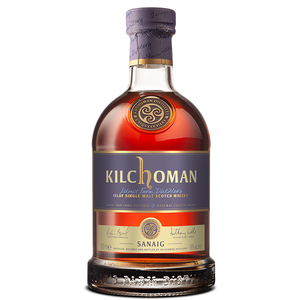 KILCHOMAN
Kilchoman Sanaig
Regular price
0.00 ฿
0.00 ฿
Unit price
per
Embark on a journey with Kilchoman Sanaig, a whisky that pays homage to Islay's rugged Atlantic coast. Blending sherry and bourbon casks, it mirrors its namesake inlet.

Kilchoman Sanaig whisky is a harmonious fusion of Oloroso sherry and bourbon casks. This blend enriches the classic Kilchoman citrus sweetness with opulent dried fruits and aromatic spices.

It's a tribute to the untamed beauty of Islay's shoreline. The influence of Oloroso sherry intermingles gracefully with the characteristic peat smoke.

Crafted in honor of Sanaig's inlet, this whisky encapsulates the essence of Islay's rugged allure.

Elevate your collection with Kilchoman Sanaig's unique character. The union of sherry and bourbon casks captures Islay's spirit and echoes the captivating inlet that inspired it.
Kilchoman Sanaig Characteristics
NOSE: Fragrant heather, raisins, pear and orange peel with waves of stoned fruits, mixed spices and rich peat smoke
PALATE: Over ripe plums, red cherries and hints of citrus give way to rich barbeque peat smoke, toffee, oak and dark chocolate
FINISH: Mouth-coating mixed fruit, caramel, cinnamon and clove with layers of brown sugar, spices, peat smoke and lasting sweetness
---
Share this Product
---