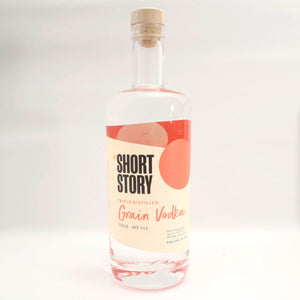 Short Story
Short Story Vodka
Regular price
700.00 ฿
0.00 ฿
Unit price
per
Unveil the excellence of Short Story Vodka, a distinguished option enriched with 40% ABV. Crafted for quality, the 750ml bottle ensures you have the perfect amount to share and savor. Its smooth, clean finish is a testament to the artistry behind its creation, destined to leave a lasting impression at any gathering.

Whether you're hosting an elegant soirée or a casual get-together, Short Story Vodka is your ideal companion. Its versatility and exceptional character make it a delightful addition to cocktails and a standout choice for those who appreciate premium spirits.

Sip and savor responsibly, knowing that each pour is an invitation to enjoy a world of refined taste. Short Story Vodka's clean profile allows you to explore its nuances, making every sip a journey of flavor discovery.
---
Share this Product
---