Presenting the Ezra Brooks Collection - a splendid range of bourbon and rye whiskeys now available at Speak Easy BKK.
With a legacy of crafting premium spirits, Ezra Brooks offers a diverse selection of bourbons, each with its unique character. From the classic, smooth-sipping Bourbon to the bold and fiery Ezra Brooks 99 Rye, these exceptional whiskeys promise to elevate your drinking experience. Discover a world of flavors, from notes of caramel and vanilla to spicy grains and oaky undertones, all available in the heart of Thailand through Speak Easy BKK, your trusted online liquor store.
---
• Fever-Tree • News • Thailand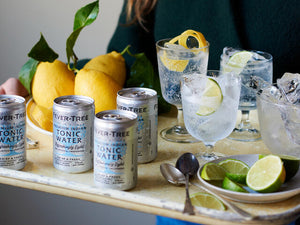 Introducing our latest addition: Fever-Tree mixers in portable, eco-friendly 15cl cans. So, why cans in the first place? Let's find out and enjoy Mediterranean and Indian Tonic flavors now with fewer calories in this new format. Stay tuned for more exciting flavors!
---
• Fever-Tree • News • Thailand
Discover the vibrant taste of Fever-Tree Pink Grapefruit Soda in Thailand, adding a zesty twist to refreshment. This new addition is perfect for sunny days and relaxing evenings. Whether you're mixing it with vodka for a zingy cocktail or enjoying it on the rocks, the soda's natural flavors and vibrant hue offer endless possibilities. Elevate your beverage choices by indulging in this unique blend that embodies Fever-Tree's commitment to quality. Hosting a gathering or simply looking for a refreshing pick-me-up? The Fever-Tree Pink Grapefruit Soda is here to provide a delightful and vibrant experience. Explore the various ways to enjoy this newcomer and let its zesty allure brighten up your day.
---
• Comparison • Nightlife • Thailand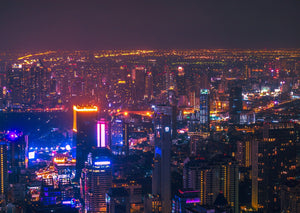 Discover Thailand's cocktail brilliance at Asia's 50 Best Bar 2023. With COA as the winner and other Thai bars securing top spots, witness the country's vibrant mixology scene on the global stage. Cheers to Thailand's rising influence in the world of cocktails!
---
• Fever-Tree • Interesting Facts • News • Nightlife • Thailand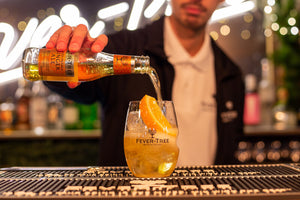 In the dynamic cocktail landscape of Thailand, one mixer brand has emerged as the unrivaled favorite among the country's top cocktail bars - Fever-Tree. But, what are the reasons behind Fever-Tree's popularity and why it is selected as the first-choice mixer in Thailand? Uncompromising Quality Fever-Tree's commitment to uncompromising quality is one of the key factors that make it the preferred mixer in Thailand's cocktail bars. The brand sources only the finest natural ingredients, ensuring a consistently exceptional taste. By meticulously selecting botanicals and using premium quinine from the Democratic Republic of the Congo, Fever Tree guarantees a superior product...