Presenting the Ezra Brooks Collection - a splendid range of bourbon and rye whiskeys now available at Speak Easy BKK.
With a legacy of crafting premium spirits, Ezra Brooks offers a diverse selection of bourbons, each with its unique character. From the classic, smooth-sipping Bourbon to the bold and fiery Ezra Brooks 99 Rye, these exceptional whiskeys promise to elevate your drinking experience. Discover a world of flavors, from notes of caramel and vanilla to spicy grains and oaky undertones, all available in the heart of Thailand through Speak Easy BKK, your trusted online liquor store.
---
• Comparison • Explainers • Interesting Facts • Whisky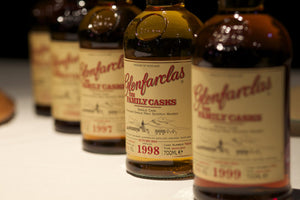 In the world of whisky, Glenfarclas stands as a testament to tradition and taste. Explore what sets this distillery apart from commercial giants like Jack Daniel's, Johnnie Walker, and Hennessy. From its rich heritage to its unique aging process, Glenfarclas whisky promises a distinctive drinking experience that outshines the mainstream. Join us as we delve into the nuances of Glenfarclas, revealing the secrets behind its exceptional quality and craftsmanship.